This is an extended version of an opinions column I wrote for the Red & Black. It couldn't be published because of neutrality issues, but I still wanted the chance to put my story out there.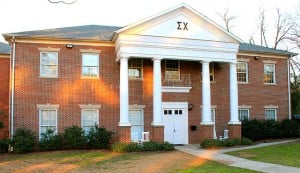 I always thought the animosity between members of the Greek system and the Red & Black was simply a product of years of misunderstanding. Writers didn't know how the Greek system worked, so they portrayed it incorrectly. The Greeks often didn't understand how the newspaper worked like the difference between news stories and opinions columns or public relations; therefore, they would often feel betrayed by the stories that were published about them.
A rift has grown between the two groups, which don't often mix socially.
In my last two years at UGA, I have spent equal amounts of time as a member of a Panhellenic sorority and as a staff writer on the Red & Black. Both experiences have given me a unique perspective into both organizations.
This semester, we created a Greek beat for the paper to establish a connection between the Greeks and the newspaper. I had to find content for at least two stories each week, which meant that it would be impossible for the paper to continue covering only negative events in the Greek system. My job was simple, and I thought that as a sorority girl, it shouldn't be too difficult.
I was right. The four Greek councils provided a constant stream of philanthropies and events and honors for me to write about.
Thrilled, I threw myself into my work, and my planner quickly filled up. When I wasn't doing things with my own sorority, I was covering other Greek events for the paper, and I was repeatedly forced out of my comfort zone.
I sat alone at National Pan-Hellenic Council's Face-Off and was floored by the incredible talent I saw. I tasted sugary Chinese donuts at Multicultural Greek Council's multicultural bake sale. I was moved to tears writing a series of articles about Alpha Omicron Pi freshman Turner Fordham, who had to move home for leukemia treatment after only four months at the University.
I got fantastic interviews from Sigma Phi Epsilon and Alpha Gamma Rho for a story about what it means to give locally. The AGRs charmed me with their southern drawls, but only after seven other fraternities ignored my calls that week. Each time I heard the voicemail trigger, I lost faith in the men I was dealing with. I figured they didn't respond to me because they were convinced I would spin their words the wrong way.
Then came the Sigma Chi story.
We heard from the Cobbham Historic Foundation that Sigma Chi was planning to relocate from their house on campus to a plot of land in a historic residential neighborhood, and that residents weren't happy. Since the tip came from the foundation, I could have easily written the story from their perspective.
But I didn't do that. I wanted to go farther because as a sorority girl on the Red & Black, I was tired of hearing complaints about the Red & Black not going deep enough into a story to see both sides of it. I wanted to do everything I could to portray the story as accurately as I could.
I called their president four times that week, and he never answered his phone or called back.
I was in touch with several other brothers who had gone to high school with my boyfriend, and only one responded. I got him on the phone once, and he promised to call me back in an hour. He never did.
Deadlines are deadlines, and mine had already been extended. I used outside sources to piece the story together. I interviewed a woman who lives next door to the lot the fraternity allegedly plans to build on. She was not happy.
I called the president once more to tell him that I was going to turn in the story without any input from a Sigma Chi brother because no one had bothered to call me back.  After a few more hours of silence, I emailed my story into the news desk, proud of my work.
Then the story went live, and the comments started.
It's somewhat of a rite of passage for reporters at the Red & Black to have their first hateful anonymous comments. My friend Tiffany's feminist responses to current issues almost always elicit crazy responses. It takes some tough skin to read the comments and be able to laugh.
When I read my first anonymous online personal attack, I was in the parking lot of a mall in Alpharetta. As much as I wish I could say I didn't care what people said about my story online….I did.
Inappropriate would be too light of a word to describe them. Most were rude, sexually explicit toward me, and surprisingly defensive as they assured me that Sigma Chi had no intention of leaving their current location. The comments' authors all but signed their names as Sigma Chi brothers from the way they wrote.
Even for the Red & Black's website, the comments were pretty bad. My news editor furiously stormed into the editor-in-chief's office and asked him to remove the worst of them.
These comments took me by surprise. I know they shouldn't have, because people will say anything behind a veil of anonymity. But I was still surprised to see such blatant cruelty and hypocrisy in action.
This fraternity claims to uphold such values as good character and a high sense of honor — I found that on their Wikipedia page. They aim to be true gentlemen, and however you define that, I can't believe it would include anonymous hate-spamming aimed at a person who is trying to tell an objective story about them.
I wanted to include their voices, but they ignored me.  They then voiced their opinions on anonymous, online comment threads.
Brave.
I met with Interfraternity Council advisor Michael Pisciotta to explain how offended I was at the vicious personal attacks. He sat quietly while I spoke, and when I had finished, he asked me what I wanted him to do about the problem. He was polite enough, but nevertheless standoffish and defensive. With the anonymous comments, it would have been almost impossible to prove the comments' authors were Sigma Chi brothers, but I told him that I would have appreciated an apology from the fraternity's president anyway. It doesn't change the fact that five brothers completely ignored me, and then I was attacked with hurtful obscenities. I never heard from the president or any of the other Sigma Chis. But one of the brothers I had contacted while writing the story was incredibly friendly to me downtown one night a couple of months later. He didn't know who I was though, and I doubt he remembers meeting me.
I can't say I was a perfect beat reporter, and I did make some mistakes this semester. I accidentally recorded the wrong NPHC Face-Off winner. I misspelled AGR's president's name. An article on Sig Eps in Tate Society was published with an edit that unintentionally changed the meaning of the story. These mistakes weren't fueled by malice but by human error. The Red & Black is meant to be an educational institution, and these are the kinds of things you learn to prevent.
The story I wrote on Sigma Chi had no mistakes, and it was not negative – it objectively stated that there was talk of them moving out of their house on campus. Ironically, the fraternity confirmed this week that they officially plan to build in the historic Cobbham neighborhood, and local residents are prepared to go to court to prevent the move.
The stereotypical fraternity boy is a polo and PFG-wearing, GDI-hating (God-Damned Independent), drunken, trust-funded Republican. And I know that most of those boys, when approached by a Red & Black reporter, will assume I am a liberal, granola-eating, hairy-legged, bike-riding feminist. It sounds like we would be natural-born enemies, but I've been surprised by frat boys before. I know there is a realistic root in many stereotypes, but there are also many exceptions. Each time I cold-called a fraternity boy, I gave him the benefit of the doubt.
But apparently this past semester, I did not deserve the same respect. Their negative treatment of my work and my intentions was stunning. More than anything, it was disappointing. I saw young men step right into the big, mythic shoes left by previous frat stars who created the stereotype. They proved me wrong and discounted every one of my past heartfelt defenses of the Greek system.
But still, I won't recoil immediately at the sight of a frocket tee and short shorts, and I would hope that in the future, Greeks might pay the same courtesy to me.
You never know who might actually be on your side.